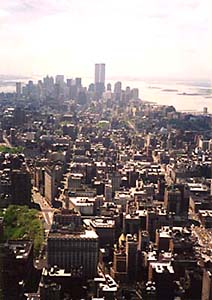 View from the top of the Empire State Building

---
960516

I am in the cafeteria of The Museum Of Modern Art (MOMA). I got up at noon and took Metro. I saw a few music store, but I don`t think they have good sales. Because they have no vibraphones, no marimbas and no xylophones, unlike the music shop I found in Chicago. This is a kind of selfish-thinking, though.

I thought here is busy and I did`t feel comfortable in this city. One of the reason is that there is a lot of people like Tokyo. Chicago was like Sapporo or Sendai, northern cities in Japan. Everything was clean and new. Now I think that there might be ways to feel conformable in this city, I don`t know exactly how. But they must be the same way as in Tokyo.

The MOMA is smaller scale than Art Institute of Chicago, perhaps than The Metropolitan Museum of Art. There are works of Henri Matisse, Joan Miro, Fernard Leger, Jackson Pollok, Gustav Klimt, Arberto Giacometti, Serrat, Jasper Jones, Kandinsky, etc.

At New York State Theater, I watched the New York City Ballet. Today, we had a special program, "Annual Spring Gala". Everyone dressed up except for a few people including me. I saw a young couple who were seemed to be actors or some important people, and flashed by some journalists` cameras. I don`t know them and heard some people were saying, "Who are they?""I don`t know!"

The program began. It was the first time to watch ballet as a live performance, so I felt everything was great, except for the orchestra. The third program was performed on saxophone quartet. That sounded nice to me.

In the intermission, jazz trumpeter, Wynton Marsalis` band was playing a blues like a jam session. The band played for final program "Jazz" directed by Winton Marsalis. The performance was nice, but I could not always understand what he was thinking in the process of creating that. It was completely written music which has old style, like rag-time and Dixieland. I don`t think the music was effective for the ballet. It was interesting that the behavior of Jazz men was a kind of cool contrasted with elegant dancers.