Home

Biography

Music Works

Essays

Guest Book


since 1997.7.4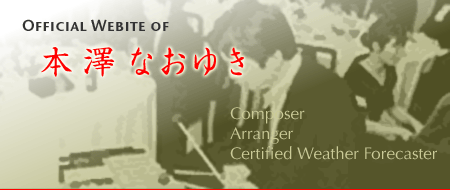 (Last Revised 2015.1.3)


Welcome to — studio cranberry, the official NAOYUKI HONZAWA's Homepage.
This site presents his music works for Concert Band and Jazz Band.




New work for wind orchestra and drums: "Jazz Metamorphoses" [Jan.3 2015]

This composition was written by the commission of Niigata Civic Wind Orchestra, Japan. The recording is the first premier of 50th anniversary concert on November 24, 2015, at Ryutopia Concert Hall, Niigata.





Producing & Planning : Naoyuki Honzawa


1997-2015 studio cranberry... All right reserved.